Our partners ReadyBytes inc. celebrates 5th Anniversary of PayPlans product and you have a chance to became a lucky person and win a prize worth of $1392. The winners will get products from reliable Joomla extensions and template developers summary on $1392! More than 14 providers and all is absolutely free.
Amongst other great stuff the winner will get free subscription on hit product NorrCompetition - best contest voting extension for Joomla. We truly believe this is a great idea to provide such Mega-Bundle and are glad to make our contribution to PayPlans Anniversary.
Luckly winners will get products for free from the following extension and template providers:
ReadyBytes, TechJoomla, JomSocial, Mosets Tree, CompoJoom, Stackideas, Simbunch, JoomlaTools, JFBConnect, JoomUnited, NorrNext, Joomlart, JoomShaper and AcyMailing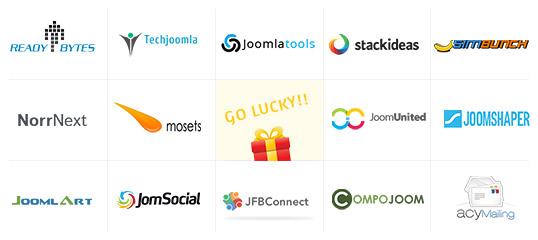 So, what should you do? Just enter your e-mail and confirm you're joining Lucky Draw Contest. More information can be found at ReadyBytes page.
Hurry up! The contest is open from 12-May-2016 to 19-May-2016.