Today we've released a plugin to integrate NorrCompetition actions to AltaUserPoints / AlphaUserPoints points with various rules and limits. Requested by many users, this plugin is finally done. Using these rules you can greatly extend your site and get voting contests monetized.
What is AlphaUserPoints / AltaUserPoints?
AlphaUserPoints and AltaUserPoints as its fork (AUP) are powerful extensions providing ranking, rewards, user points and referral system that greatly extend features of your site and let you to accumulate or spend points, limit and control different user actions they're performing and finally use social rewards technology at its full strength!
You can assign points to user account due to their actions, reward or change rank of the user according to the specified rules and limit user in their actions or vice versa, provide more features.
Integration with NorrCompetition
Integration between NorrCompetition and AUP component opens a wide opportunity on social rewards an let to combine voting contest actions to user points system.
AUP Plugin for NorrCompetition
The integration plugin comes with AUP rules kit which are listed in details on product's page. Users get points for various performed actions according to specified rules. Add or subtract points, use percents, select the method to assign posts (frequency) and etc. The package has two versions: rules for AltaUserPoints and rules for original AlphaUserPoints extension.
Just set up rules according to your needs and to your fantasy!
Now your contest voting can be monetized!
Integration to AlphaUserPoints / AltaUserPoints provides you ability to monetize contests. User can buy points using any 3rd party add-on for AUP and spend points performing different actions. You just configuring voting rule and get points subtracted per each vote. I.e. -5.00. To vote for 10 entries, the user requires to have at least 50 points on account balance.
There are lot of ways how to make benefit:
Users can buy points
Users can earn points performing another actions within your site
Users can get points via e-commerce extension
And many others.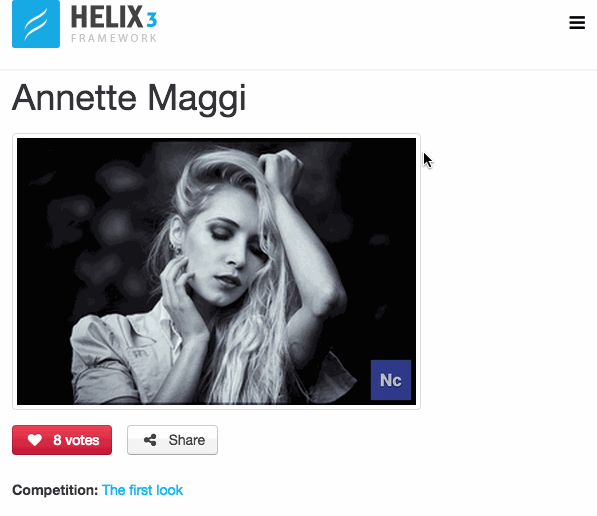 The most simple way is to sell points via PayPal to the users. To start voting they'll need to buy points first. To provide such feature the following add-on is required:
We're going to write a cycle of articles showing different ways of how to monetize voting contests provided by NorrCompetition and make it successful.
The difference between AltaUserPoints and AlphaUserPoints
AltaUserPoints is a fork of well-famous AlphaUserPoints user reward and scoring extension originally developed by Bernard Gilly (alphaplug.com). When the author decided to end the development and to retire, the component was forked by Nordmograph who are early AUP integrators and adopters. Being one of the most active members of the AUP community since 2008, they decided to continue AUP development and providing support to the users when the original product became no longer available.
AltaUserPoints represented by Nordmograph is a fork of the original component and comes with huge number of AUP add-ons, documentation and support.
After this fork came to the life, original component's developer Bernard Gilly sold his product to another company Pamper Me Network who's representing classical AlphaUserPoints now.
Our plugin originally was developed for AltaUserPoints (represented by Nordmograph) but we also made a version for original AlphaUserPoints (represented by Pamper Me Network) too since the API is yet the same.